After above 40 years dedicated to selling ham almost 25 years in our shop in Barcelona, we decided to make the leap to online sale.
Through our online store www.jamonarium.com sell hams, sausage, wines and gifts to Europe.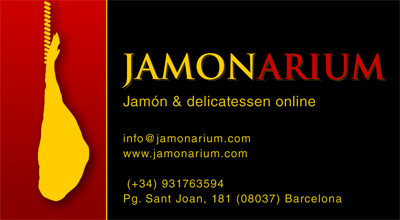 View the online store Iberian hams, serranos, sausage, cheese, wines, oil, etc..
In our online shop you can buy the same products in our Store in Barcelona and send them home quickly and professional.

How I can make the purchase online? Haz click aquí and we explain the easiest way to buy ham online.

Can I trust ham I get home and be good? Haz click aquí to read our guarantee based on our experience and confidence in our products.

How much is shipping?How long will it take me? Haz click aquí to see the shipping rates and delivery times.

How come the packages presented? Haz click aquí to see the presentation of products.
Preview gifts to all Europe, ratings 931763594 and help you make the purchase or advise you about the product.