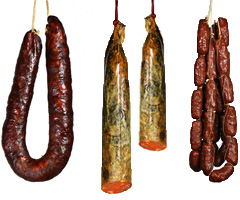 We have a wide range of products to suit your palate, both Iberian Ham, as serranos.
The presentation of the pieces are Whole, tights the You loncheadas skinless and all vacuum packed for its conservation.
Due to the diversity of the products grouped into two families: Iberian Bellota Meats and Sausages Artisans
Embutidos Ibéricos Bellota
Its fine grain is characteristic of authentic Iberian Acorn Loin. Processed and cured in natural drying, They are a real treat for the palate.
Its dressing is based on a ratio of salt, cayenne, garlic and oregano adjusted to a traditional recipe, and refined over the years.
It is one of our most popular articles in national and international tables.
The minced meat is smooth and thick, providing a colorful and elegant cut.
The product is stuffed into natural casings which provides an unbeatable flavor with traditional marinade used.
From the choicest meats of the Iberian pig, get lean. After careful chopped seasoned with salt, embucharlo garlic and oregano for natural casings, that they will grow up and get that much natural point of authentic Iberian acorn sausage.
Sobrasada Ibérica Bellota
Product made with lean pork Iberian acorn, cular embedded in your gut, with a time of healing in natural drying of about three months.
Soft texture, ideal for spreading on bread.
Embutidos Artesanos
Lomo Serrano Embuchado
The pork loin is a sausage made with pork loin whole, outer fat free, marinated and then stuffed into natural casing pork.
For the preparation, the backs are made cured in salt for a day or two, then washed to remove salt and allowed oreo in a couple of days until well drained. After marinated, introduced into elongated casings and hung to cure in a cool, dry place for at least two months.
In its development, with lean meats and selected and packaged bellies from pigs, This highlights the traditional adobo sausage comes in four varieties, sweet (white rope) and spicy (red rope), depending on the type of paprika used in the pickled. We also have sweet and spicy aumado.
Chorizo cular extra
The perfect combination of lean pork with a suitable proportion of bacon, along the cold, make a natural product quality is obtained, with high caloric value and protein of high biological value and special features. Also, craftsman in the system development, it does not add any preservatives, or coloring, which increases its quality. It comes in wide gut.
The jerky is healing leg of beef. This process may resemble the process of developing the most famous ham varying the flavor and color of the final product. Meat characteristic flavor, little salty, poco fibrous consistency with different shades of color, a color from cherry to garnet, it accentuated the edges at the end of the ripening process, and submit a light marbled fat, which gives it its characteristic juiciness.
Costilla y panceta adobada
They are used to prepare dishes with great flavor due to the marinade with paprika thereof. They are mostly used in winter for their great calorific.
All three are made with lean pork, bacon and natural spices. Forms, between them vary so its flavor has small differences between them. These differences in flavor are also due to the species used in each.
Panceta curada al natural
Natural bacon is located under the ridge between the rear leg (ham, ham) and the foreleg (palette, blade), always presenting with skin. In preparing pepper is used as a drying naturally.
Sobrasada
It is made with pork, lean and bacon, cayenne, salt and pepper. The use of natural or artificial colorings or prohibited.
First chop meat kneaded together the paprika, salt and pepper. The mixture is stuffed into natural hog casings.
Subsequently cure where a slow transformation of the product consisting of the fermentation of the dough is produced, which loses some moisture I
No, all of which gives the sausage its texture and taste typical.
Botillo
Stuffed meat product, made with cuts of pork: especially rib and tail. Sliced ​​and marinated with salt, paprika and oregano and garlic sausage in natural casing. The
pleasure of tasting it makes the test repeated.
Embutidos Cocidos (Butifarra blanca, Butifarra negra, Bull, Catalana)
Cooked sausages are made from selected meats spiced, stuffed into natural casings and, later , cooked in the cauldron, man
taking and recalling the artisan tradition of our predecessors in killing the people of our country.